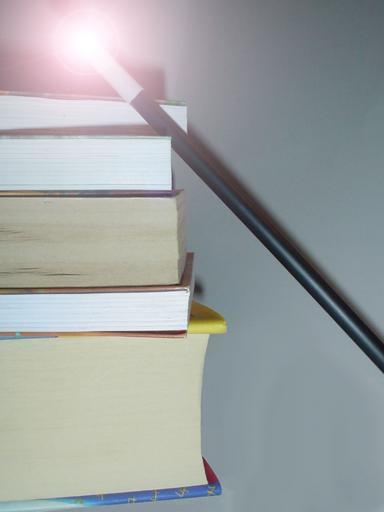 How can you start learning magic tricks if you are stuck at home?  You don't need a direct mentor to teach you nowadays, nor do you have to enroll in magic classes.  Magic learning can be done at home and anytime, with the options available today.
Learning magic might seem very daunting at first.  There are so many resources and so many different ways to go.  I'll show you how to learn magic if you are a beginner in this post!  Let's get into it.
How to Learn Magic at Home
Here are some options if you want to learn any type of magic from the comfort of your own home. (If you want to see more about the different types of magic to learn, visit How to Learn Magic!)
Magic Kits
Magic Kits are an option if you are wanting to learn magic in general, and want to learn all types of magic.  Generally, these kits are designed for those who are beginners and know absolutely nothing about magic.  So, they will teach you all of the basics. (See more at How to Learn Magic for Beginners)
Since they cover so many different forms of magic, they generally will not go into depth in one particular area.  They will tend to show you the most basic magic for each type of magic.
One good thing is that kits usually come with some props.  This means you won't have to buy these props separately if you want to perform certain classic beginner tricks.  Usually, there will be some kind of trick deck supplied in most kits as well.
Magic Kits will usually come with either a book, video or a combination of both.
My pick for the best magic beginner kit would probably be Joshua Jay's Magic the Complete Course.  Joshua is just a wonderful magician, one of the best in the world, and is great at presentation.  He is also a very good teacher.  The kit comes with some good props, as well as a book, with a video also.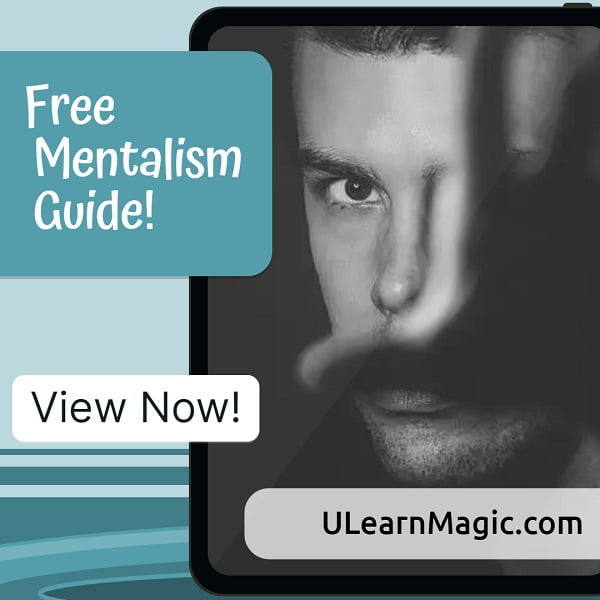 Joshua does a good job of picking out some good tricks and principles for beginners to learn.  He also covers a lot of different forms of magic, including even Office Magic.  Some of it might not be stuff you would use, but there are some very good tricks in this kit.  Unfortunately, this kit seems to be harder to find and may have been discontinued.
There are also some magic kits by Criss Angel in which he teaches a ton of information for a beginner.  Hundreds of tricks, plus you get the standard props.
Magic Books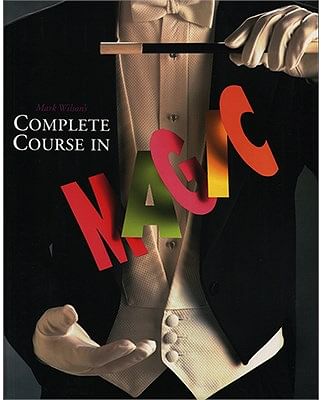 Here are some good magic books for learning magic.  Some are extremely deep and could be studied for years.  Some of the best beginner books include:
The Complete Idiot's Guide to Magic
Dummies Guide to Magic
All of these books will cover multiple types of magic.  The book by Mark Wilson is a classic and covers a lot.  You can have most of these shipped to your house.
Online Magic Shop Video Downloads
At Vanishing Inc Magic, you can literally find thousands of top magic downloads, available for you to get instantly (with purchase).  These are going to usually be better than free videos you'd find on YouTube.  There's also a link below to access some free magic downloads from them.
Vanishing Inc Magic Instant Downloads – Over 2,000 magic downloads available
Vanishing Inc Free Magic Downloads – Free magic downloads
Vanishing Inc Card Magic Downloads – Over 1,150 card magic downloads available
Vanishing Inc Close-Up Magic Downloads – Over 580 close-up magic downloads available
Vanishing Inc Coin Magic Downloads – Over 160 coin magic downloads available
Vanishing Inc Mentalism Downloads – Over 160 mentalism magic downloads available
They also have a Masterclass, with 3 lectures a month from a different professional magician.
Magic eBooks
Magic eBooks can be downloaded directly to your computer, phone, or tablet, so you can learn anytime in the convenience of your home.
The Mind Blowing Magic Tricks eBook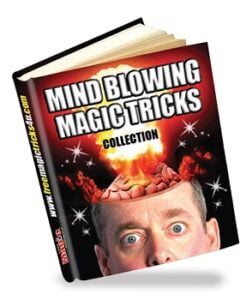 The Mind Blowing Magic Tricks eBook contains tons of some of the best magic tricks.  (You could say they are mind-blowing 🙂  Also, if you order through one of these links, there are 3 bonuses, for even more tricks, including 5 video magic trick tutorials for instant download.  And the cost is only $5.67, so you can't go wrong, and you get instant access.
Go to the Mind Blowing Magic Tricks eBook
Vanishing Inc Magic eBooks
Vanishing Inc has over 480 magic eBooks for download.  Follow the link below to access.
Online Magic Courses
Udemy
Some sites such as Udemy are offering user-generated courses in all subjects, and magic is one of those subjects that's available.
Most of these courses will probably be basic beginner courses.  I've never tried any so I can't comment.  But, you can find a link to all the Udemy magic courses here, Udemy Magic Courses.
One of the most popular Udemy general magic courses (that's not just card tricks) is the How to Do Magic Tricks & Easy Card Tricks for Beginners Course by Matt McGurk and currently has an average 4.8 out of 5-star rating and over 225 reviews.  He claims you can go from zero to hero in 7 days, but in reality, real magic skills can take years to develop.
Another popular course is a card magic course, called Card Magic – The Complete Course for Beginners.
Udemy has sales sometimes, but otherwise, the courses can be over $80, so some of the options on this page might be better options.
Magic Tricks Tutorials 2.0 DVD
You can get the Magic Tricks Tutorials 2.0 DVD here.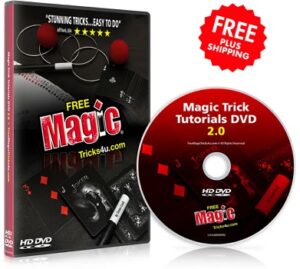 The great thing is it's a free DVD! (You just have to pay the shipping of $9.97.  And that's too anywhere in the world!)  You also get access to a downloadable copy instantly, that you can watch any time on your computer.  That's still a fantastic value, considering most magic DVDs alone cost well over that. (and you might have shipping on top of that).
And there's even more.  The link here also includes 7 bonuses, including 100's of extra magic tricks, and access to a Magic Mastermind Facebook group.
Simon has been doing magic for 35 years, so you get many tricks with this offer.  On the DVD you'll learn coin penetrations, coin vanishes, a stage illusion, the classic linking rings, sponge ball magic, making cards vanish and appear at your fingertips, and more.
Get the Free Magic Tricks Tutorials 2.0 DVD and extra bonuses and tricks
He offers a money-back guarantee, so there's really nothing to lose at this price!
YouTube Videos
Another option in more recent times is to learn magic tricks by watching YouTube videos.  But the only drawback to this will be, you will not have a guide as to what to learn.  Also, the difficulty levels will vary, and some of them might be too hard (or too easy).
I have also found that there is a lot of material found in books like Joshua Jay's and Mark Wilson's, classic things of magic, that are just not taught on YouTube.  Also, the tricks tend to be not as good as tricks or courses that you pay for.  A lot of tricks on YouTube can be more amateurish.
The following are a couple videos you can watch that will teach you some magic tricks at home!
Learn Magic Tricks at Home Videos
Some of the best YouTube channels I've found are:
Magic Stream
There's a new service called Magic Stream, produced by Ellusionist.  Basically, it's like Netflix for magic.  You pay a subscription fee, and it has numerous videos that you can stream whenever you want.
I had a subscription at one point, but ended up canceling.  Some of the videos I wanted to see when I first joined, but after that, most of the videos I didn't care much for.  They tended to be a lot of modern magic Instagram-type of tricks.  I just prefer some of the classics more.
The magician started magic as a kid and has learned from some of the greats.  He loves to share his knowledge with others and help out with the subtleties he's learned along the way.
Follow on YouTube at the link below to get free tricks and advice!